Come Together: The Business Wisdom of The Beatles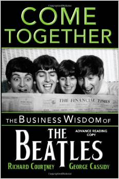 Come Together: The Business Wisdom of The Beatles unveils the historic rock band as the ultimate business case study, chronicling the calculated and often brilliant effort that turned four teenaged greasers from Liverpool, England, into a multi-billion-dollar franchise with multigenerational appeal.
Musicians have taken many cues from The Beatles, as have producers, managers, engineers, and the recording industry at large. Now, with the guidance of Courtney and co-author George Cassidy, budding entrepreneurs and business folks can also garner insight and motivation from the most successful rock band of all time.



Each aspect of The Beatles' journey is paralleled with the elements and ideas intrinsic to any business venture, providing readers with a one-of-a-kind framework for a similar path to success. Covering everything from group dynamic to taxes, revenue streams, and beyond, each of the book's 100 short, yet insightful chapters offers up useful business lessons in conjunction with the intriguing history of the Fab Four.